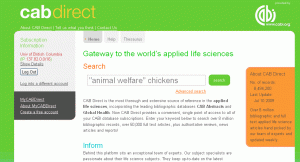 CAB Direct, a key database for agriculture, animal science, conservation, forestry, global health and nutrition has a snazzy new look. The new interface, which is available now and will replace the existing version on September 1, offers a more intuitive search experience. Features include:
Simple and advanced search screens.
Suggestions for spelling variations.
The ability to refine search results by subject, year, journal, author, geographic location and language.
Abstract snippet views at the results level.
Links to full text articles using the View Full Text and UBC eLink icons.
MyCABDirect, a personal account where you can set-up email alerts and RSS feeds based on saved searches.
A heads-up about RefWorks: The Direct Export feature is not available in the new interface. Instead you can download the results and save them as an .RIS file, and then Import the file into RefWorks using the .RIS filter.
For help with the new interface, please contact Sally Taylor or Katherine Miller at Woodward Library.