History of Medicine Exhibit
A History Of House Calls and Medicine Making
In the past, if you were unfortunate enough to be sick, you probably would not have visited the doctor's office. Instead, the doctor would have come to you!
Until the mid-20th century, house calls were a common medical practice. Doctors would visit their ill patients in their homes, where they would diagnose and treat on-site, even sometimes crafting medicines at the bedside. Making all of this possible was the doctor's bag or chest, which allowed them to compactly carry all of the equipment to do their jobs. These carriers "served as a mobile clinic" and "were often fitted with compartments for bottles and instruments ready to carry to the bedside" (Steele, 2005, p.170)
This display features some of the items that a 19th or 20th century doctor might have brought to the home, focusing on equipment used to make medicine onsite. From the large, beautiful medicine chest to the tiny injection kit, these artifacts tell the story of the resilience and ingenuity of the doctors of the past.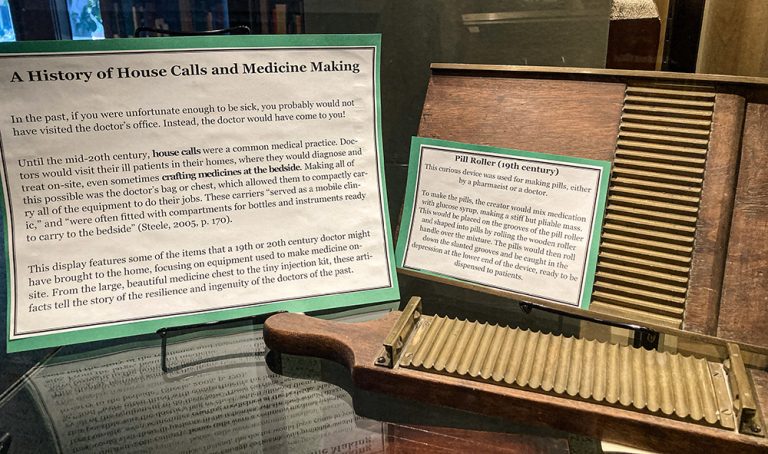 Pill Roller (19th Century)
This curious device was used for making pills, either by a pharmacist or a doctor.
To make the pills, the creator would mix medication with glucose syrup, making a stiff but pliable mass. This would be placed on the grooves of the pill roller and shaped into pills by rolling the wooden roller handle over the mixture. The pills would then roll down the slanted grooves and be caught in the depression at the lower end of the device, ready to be dispensed to patients.
Mobile Medicine Chest (1840s)
This chest was originally owned by Dr. W. H. Hunt, resident and five-times mayor of Bath, England. It contains a space for drug storage in the front, 5 drawers for dispensing equipment (such as scales and mortar and pestle) and a secret compartment in the back with space for bottles.
In less populated areas, during the turn of the century (19th-20th) apothecaries were not all that common. Therefore it was sometimes necessary to have a portable apothecary shop, which the doctor would take to his patients to fill prescriptions on the spot. This case contains all the essentials commonly used in preparing medicines.
Troemner Balance (1843 – 1847)
Balances and scales such as this one, allowed those who made medicine to weight their compounds carefully, ensuring a correct dosage.
This example comes in a wooden box with protective glass, meaning it could travel with a physician.
Physician's Dispensing Kit (1908)
Leather-bound medical kit containing four rows of corked glass bottle in metal clasps, totalling 43 bottles overall (some partially full) with space for 54 total.

Items such as this allowed the physician to be their own dispenser. Though it's safe now, this case originally contained quite a variety of compounds some of which are considered dangerous today.
Pure Penicillin (1946)
This now empty glass vial once contained a truly lifesaving drug. The discovery of Penicillin in 1928 meant that previously fatal bacterial infections were now easily treatable, drastically changing the course of medicine.
Injection Kit (1900-1950)
This tiny, portable kit contains all the tools necessary for a doctor to administer injections anywhere they are needed. The case is made of steel and contains clips and a folding rack that can be set up to hold vials of medicine and keep the kit orderly.
It contains a glass and metal syringe calibrated for delivery correct dosages, a needle, a razor blade, a plunger and a now-empty vial of medicine.
Posological Tables of the Chemicals, Drugs & Galenical Preparations of the British Pharmacopaeia" (1914-1932)

This little book appears to have been owned by a Dr. D. D. McNeill of London
Books like this one contain information about how to measure proper dosages of medicines and chemicals for the treatment of patients.
Insulin Syringes (1920s – 1950s)
These syringes were used for the injection of insulin. The glass syringe is from between 1920-1950, with the plastic syringe coming later, after 1949.
Did you know: 2022 marks 100 years since Canadian scientist Frederick Banting and his co-researches performed the first successful clinical trial of insulin on a human subject and introduced the term "insulin" to the scientific and medical community.
Pill Box (1875-1975)
This charming little box contains five nesting compartments for holding pills that were held together by the floral case and attached to a drawstring. This box would have made it easy to take your pills with you on the go without looking unfashionable
Conversion Charts (1950 – 1959)
These charts helped doctors or pharmacists creating medicine to quickly convert apothecary weights to their metric equivalents. This was done to make sure that patients were getting the correct dosage.
Given their small size and durable material, these charts would have been perfect for portable medicine making.